From conferences to team workshops, Elizabeth is an accomplished presenter. Using her trademark blend of humour and real-world examples, she has spoken internationally about branding, employee communication, marketing, thought leadership and workforce engagement.
Workshops
Planning for a Change
Whether your organization has a change in the works, or you're looking for a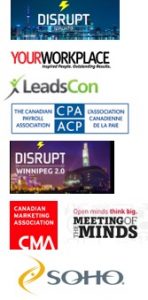 proven, scalable way to get ready for change, this workshop will give you the tools to succeed. This is ideal for corporate communications, marketing and human resources teams who are tasked with communicating change to employees, customers, the media and other stakeholders. Working hands-on with a proven model, participants will learn how to:
Identify and prioritize audiences
Develop key messages
Get executive and stakeholder buy-in
Set leaders up for success
Create effective materials using the right delivery channels
Measure and monitor impact
This workshop can be customized for your needs.
How to Define and Explain Your Employer Brand
Employer brands may be all the rage these days, but if we look beyond the jargon, it's an important part of your overall brand that helps you find, grow and keep top talent. This hands-on workshop is for human resources and marketing teams tasked with creating or tidying up their employer brand. Using a proven framework, attendees will learn to:
Make the business case for an employer brand
Pull together the elements to build a brand
Define and articulate the employer value proposition
Create a killer pitch that converts prospects to employees
Give existing employees the tools to be your best recruiters
Build an employer brand marketing plan
Connect the whole thing to the broader corporate brand
This workshop can be customized for your needs.
Back to Basics, No Fluff, no BS Brand Definitions
Whether you are struggling to align your corporate brand with your markets, or your sales team just can't seem to get its head around that latest product, this workshop is all about brand basics. Your marketing, sales and product management teams will dig in on some difficult questions, and come away with a simple, clear, mutual understanding of how to talk about the brand, including:
Understanding the business context
Identifying ideal customers
Articulating the brand experience
Explaining what the brand is and why it matters
Building a kick-ass elevator pitch
Applying it all to real-world marketing and sales activities
This workshop can be customized for your needs.
---
Conference Presentations
Every Little Thing You Do is Branding
Marketers spend a lot of time assessing competitive and market risks. Elizabeth believes the greatest threat to most brands are the brands themselves. In this fun, fast-paced talk, we'll look at examples of brands doing it well (and few who could do better) to understand the threats and opportunities facing your organization. Attendees will learn:
How brands kill their credibility
Why porcupines make terrible customers
How marketers throw customer service under the bus
How HR can help you fix it
Why your brand is probably like your dog
How top brands keep it together and outperform
Actionable best practices and techniques to build stronger brands
Deer, Meet Headlights: Change Communication for Innocent
It's no longer a matter of if, but when, organizational change will come. When it's communicated well, employees, customers and other stakeholders are engaged and onside; when it's communicated not-so-well, it can take months or years to rebuild trust and a healthy culture. Whether it's a merger, acquisition, downsizing or product launch, communicators play a pivotal role as strategic advisors, change agents and practitioners. But how can we fit big change projects in among our already jam-packed days, especially when we may not have much time to put a plan together and execute. This high-energy, interactive session introduces a planning framework that streamlines message development, helps you explain it to leadership teams, and sets up your change communication for measurable success. Attendees will learn:
How to get early input from leaders
How to identify key messages for each audience
Where to start, even if you have almost no notice
Best practices to get the message out consistently
How to measure success
Thought Leadership is Neither
Marketing and PR pros understand the value of thought leadership, but it can be a hard sell to the rest of the organization. Elizabeth believes that much of the problem is that most of what passes for though leadership is neither thoughtful nor leading. In this fast-paced, interactive session, we'll use real-world case studies to identify how we should be leveraging organizational smarts, existing content and owned platforms to create credibility, own conversations and deliver measurable results. Attendees will learn:
How to get the sales team onside with thought leadership
How to turn your executives into credibility machines
The care and feeding of subject matter experts
How to connect thought leadership to revenue
The real role of content marketing